The Main Factors of the Development of hot Rolling Mill and Its Technology
Author : Hani Time : 2020/05/20
The main factors that promote the development of hot strip rolling mill and process technology are: the continuous improvement of their production capacity is required, so that the quality of the steel coil is continuously increased and the rolling speed is continuously improved. At the same time, it is proposed to expand the product variety and continuously improve the dimensional accuracy and performance of the product. Due to the impact of the 1973 Middle East oil crisis, we turned to the development of energy-saving technologies; In the mid-1980s, we paid more attention to the improvement of product quality, and proposed higher quality for flatness, strip crown and flatness quality requirements.
The hot-rolled coils of the wide strip steel mill of the hot-rolling unit can be used not only for thin and medium plates, but also as raw materials for cold rolling, welded pipes and cold-formed steel in the next process. Since the 1950s, hot strip rolling mills have become the main form of strip production worldwide. At present, there are more than 200 sets of hot rolling mills and strip coiling mills over 1000mm in the world. Since the first thin slab continuous casting and rolling production line was put into production at Nucor Corporation in the United States in July 1987, 33 sets have been completed and planned to be built by 1997.
The hot strip mill has the characteristics of high rolling speed, high output and high degree of automation. The rolling speed was 10-12 m / s in the 1950s and 18-30 m / s in the 70s. The product specifications are also expanded from the production of coiled strips with a thickness of 2 to 8 mm and a width of less than 2000 mm to the production of strips with a thickness of 1.2 to 20 mm and a width of 2500 mm. The increase in the weight of the coil and the increase in the operating rate have enabled the annual output of the existing hot strip rolling mill to reach 3.5 to 6 million tons, and the maximum coil weight has also increased from 15 tons to 70 tons. The size and weight of the billet are increased, and more work stands are required. In the past, the working bases of the roughing and finishing rolling mills were 2 to 4 and 5 to 6 respectively. Now they have been increased to 4 to 6 and 7 to 8 respectively. The size of the rolling mill has also increased accordingly.
In addition to the automatic thickness control, the modern hot strip mill also implements electronic computer control, which greatly improves the level of automation and product quality. The thickness tolerance of the strip steel does not exceed ± 0.5mm, and the width tolerance does not exceed 0.5 ~ 1.0 mm, and has a good plate shape.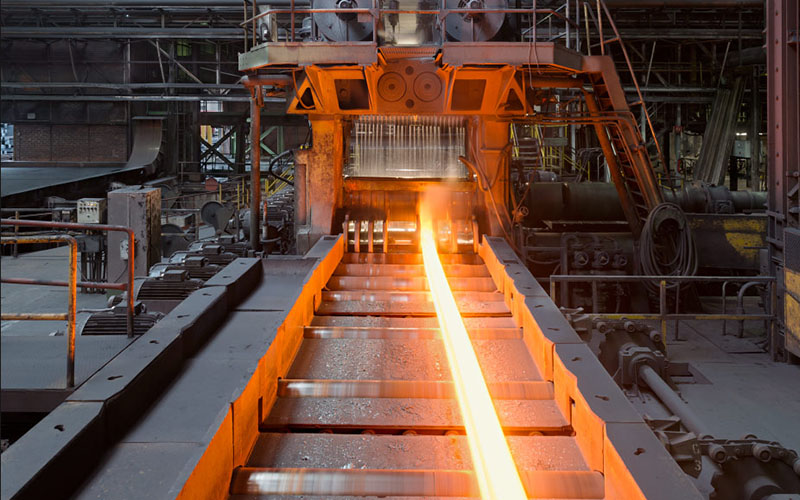 TAG:&nbsp&nbsphot rolling mill &nbsp hot strip rolling mill &nbsp continuous casting &nbsp rolling production line &nbsp hot rolling unit