What Types of Rolls Are Used in Rolling Mills?
Author : Hani Time : 2020/05/14
There are many different specifications and materials for rolling mill rolls, such as forged rolls and centrifugal casting rolls. Casting rolls are divided into high, medium and low nickel. Because the classification and use of rolls are complicated, we mainly analyze the quality indicators of different rolls used in rolling mills.
1. Forging roll process
Forged rolls are made of billets through different forging processes. Different metal elements can be added according to rolling requirements. The quality of the material is critical to the quality of the rolls (alloy elements). The roll will not be deformed during the rolling process. The current production processes include air hammer forging and rotary cutting.
2. Quality index of high nickel roll
Nickel content ≥7.0%, carbon content between 1.20% -2.20% are called high nickel rolls. National standards require high nickel roll hardness (HRC) must be ≥20, impact value ak≥3.0J / ㎝2. To achieve the hardness, high-chromium balls must be quenched at high temperature + tempered (currently there are two kinds of quenching methods for domestic high-nickel roll quenching: oil quenching and air quenching). If the hardness is below 15 (HRC), it means that the high-nickel roll has not been quenched .
3. Index of medium nickel roll
Nickel content 3.0%, carbon content between 0.80% -1.20% are called medium nickel rolls, impact value ak≥2.0J / ㎝2. National standards require that the nickel roll hardness (HRC) must be ≥15 or more. To ensure the quality of the rolls, high temperature tempering is required for nickel.
The forging roll material is alloy high-quality steel, while the centrifugal casting roll is scrap; the forging roll is not easy to deform due to its better surface quality than the casting roll; the casting roll is only suitable for hot rolling of rebar and wire rod, while the forging ball is made of alloy high-quality steel, which is inherently corrosion-resistant, so it is suitable for cold rolling or hot rolling.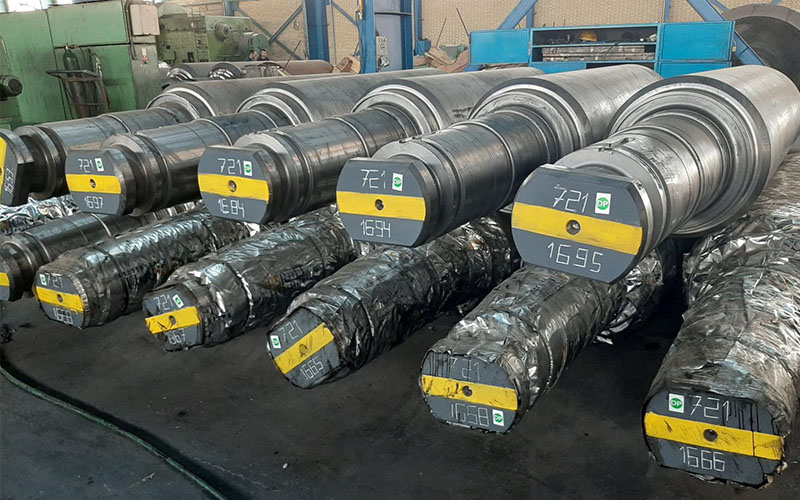 TAG:&nbsp&nbsprolling mill rolls &nbsp forged rolls &nbsp casting rolls &nbsp nickel roll &nbsp hot rolling &nbsp cold rolling